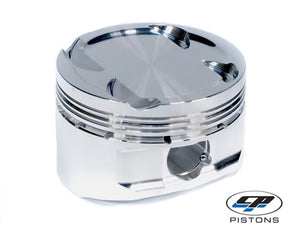 CP pistons are compatible with oversized valves and high lift camshafts. Part numbers ending in a "X" are on a X-style forging for additional strength, durability and weight reduction. The X-style has a full radius dome design, high performance rings and light weight wrist pins. CP Pistons represent the highest quality and is engineered for maximum power. Pistons can be ordered with gas ports, skirt coating, ceramic top coating, and stronger wrist pins if desired. Cometic head gaskets also available.
Features
Deep valve reliefs accommodate high lift camshafts
Larger valve reliefs for +1mm valve sizes
Custom skirt cam and barrel design
Accumulator grooves
High strength aluminum forgings
High performance rings
Fully CNC machined and balanced to +/- 1 gram
Wrist pins included at no additional cost
Double pin oilers force fed from oil ring groove
Pick lock grooves for easy lock removal
Pin fitting included
---
PRODUCT DETAILS
Part Number:

SC70451 / SC7047 / SC70458

Bore:

87.5mm

Compression Ratio:

10.0:1

Compression Ratio:

11.0:1

Compression Ratio:

9.0:1

Compression Ratio:

9.7:1

Manufacturer:

CP Pistons
Please contact us for the compression ratio that suits your build. This is the perfect piston to go with our Darton sleeved blocks.