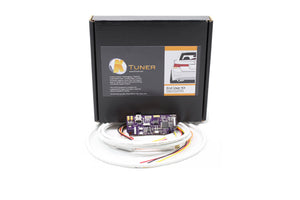 Our KTuner In-ECU tuning package comes with a single KTuner hardware unit paired with a single user license for the KTuner software. MUST SELECT "YES" for KTuner ECU parts as they are necessary for installation onto ECU. DOES NOT INCLUDE ECU. 
This unit is locked to one ECU and allows you to alter the settings in your ECU.
Full reading, reflashing, and datalogging.
On Board Logging (8MB) – RSX/Swap and Accord/TSX only as of 1/10/16
Direct Flex Fuel input for ethanol content and temperature. RSX/Swap only as of 1/10/16
Four (4) Analog inputs for 0-5 volt sensor signals. – All platforms.
Two (2) Speed inputs for VR or HALL sensors. – All platforms.
Peripheral port for Bluetooth, LCD displays, and additional add-ons.
KTuner uses direct USB connectivity for fast data transfers.
Please see our list of supported vehicles for platform specific information.
Have a revision 0 board and want to upgrade to revision 1? Upgrade for only $100 plus applicable shipping!