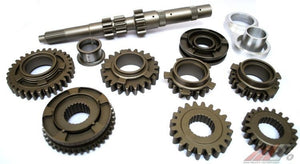 Take your performance to the next level with the MFactory Dog Gear Sets. Recognizing the demand for transmission components that can withstand the extreme shock loads produced during racing, MFactory Competition Products are proud to offer our range of top-tier competition level gears.
Ratios:
2.313 1st
1.650 2nd
1.304 3rd
1.080 4th
0.958 5th
0.851 6th
Diamond Cut to exacting tolerances from Forged High-Nickel-Chromium-Molybdenum Steel and put through our own proprietary heat treatment process, the MFactory Dog Gear Sets are the pinnacle of off-the-shelf performance gears for today's Sport Compact.
Through the use of leading-edge Solidworks 3D CAD & Cosmos FEA software, our advanced gear geometry helps to increase tooth strength, reduce friction and, most importantly, minimize parasitic drivetrain losses. Transmissions built with MFactory PRO Series Gears transfer, on average, 1-2% more power to the ground over our competitors!
Part of the testing criteria for our gears included extreme hot-lapping and tuning sessions on loaded dynos which ensure that not only are our gears strong enough to handle the shock loads encountered during racing, they are also durable enough to handle the variable loads encountered during day-to-day Street Driving.
Our premier transmission upgrade, the MFactory Dog Gear Sets includes our newly redesigned Shafts & Gears, increasing drivetrain efficiency and virtually eliminating Axial Shock Loads. Please note that Dog Engagement is not recommended for use on the Street.