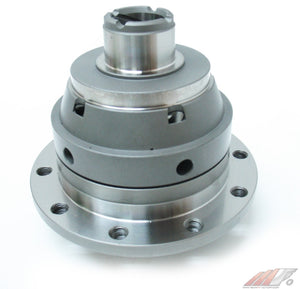 Gain a prominent advantage over the competition with the MFactory Helical LSD.
Through the smooth and constant distribution of power to the wheels, the MFactory Helical LSD puts the power-to-the-ground and maximises your vehicle's traction. A must for any FWD race car, be it Street, Strip or Track!
Now in it's 2nd Generation, the v2 Helical LSD is lighter, stronger and more efficient than any other Helical LSD on the market today!
NEW: Stage 1 Race Pack Upgrade now available for Honda B-Series, K-Series and H-Series Fitments. Designed for more aggressive cornering by raising the torque bias from 66% to 75%
Made from imported Japanese SAE 4320 Steel

Forged, Double Tempered and Super Sub-Zero treated for unsurpassed toughness

Advanced Shot Peening technology increases surface hardness

Designed to withstand the extreme shock loads of competition-level Drag Racing

Advanced gear geometry designed using industry-leading software puts more power to the ground

Only the highest quality Brighton-Best Hardware is used

Maintenance-free Gears eliminates the need for special fluids & rebuilds associated with plate-type LSDs

Lock-free operation ensures no adverse affect to steering response

Optional Stage 1 Race Pack Upgrade for more aggressive cornering (Honda Fitments Only)