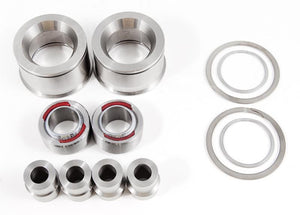 Honda FG4 - FB6 Civic (2012+)
Acura TSX (2006-2015)
Acura ILX (2012+)
Are you looking for more traction, reduced wheel hop and superior handling in your 2012+ Honda Civic or Acura TSX / ILX? If so, the rubber LCA (lower control arm) bushing is your enemy! During acceleration, braking or turning, the lower control arm's large rubber compliance bushing distorts under load. This allows the lower arm to move back and forth as the forces from the car compress and squish the bushing into different shapes.

Full-Race has the solution for the distortion in the lower control arm bushing with the Full-Race Traction Balls. The concept of the traction ball is simple: when the suspension does not have any inaccurate sloppy movement (due to bushing flex) the suspension geometry will be corrected and significantly improve acceleration, braking and handling. Traction balls stop LCA deflection because bushings cannot flex/move/change with the solid-mounted heim joints.

With the Full-Race traction balls installed, the flex is gone and the LCA is rigid. The suspension is drastically improved as the steering is now very sensitive and a lot lighter. The durability of these units is superior to the stock bushings and perfectly suited for both street and track use. This design is not uncomfortably harsh during driving and really an improvement in all regards. Full-Race Traction Balls are precision CNC machined in the USA from 100% billet stainless steel to provide a long service life and perfectly consistent press fit. Traction balls are securely locked in place with double retaining clips at both the inner and outer mounting surfaces <not circlips>.

HOW TO CLEAN AND MAINTAIN YOUR TRACTION BALLS: Traction balls use spherical bearings which are tight tolerance bearings which require periodic cleaning and lubrication particularly in wet and muddy climates. All spherical bearings will make some form of noise with use, but most times more frequent noises are associated with a dirty bearing. The best way to clean and lubricate the bearing is to first wipe off the top and bottom of the spherical bearings including the mis-alignment spacers. On a daily driver you'll get a heavy buildup of dirt & road grime. We recommend using a dry lube spray with teflon such as Tri-Flow or Lucas Oil "Tool Box Buddy". Simply spraying the top of the spherical bearings. Some people report good results with "WD-40" but that can attract dirt so we dont often recommend it
Allow this to soak down into the bearing. We suggest moving the suspension slightly to allow the lubricant to fully penetrate. After about five minutes wipe the spherical bearings & spacers clean. You won't need to use much. Following these steps, your traction balls will last longer and stay quieter. Do not use harsh chemicals like brake cleaner to clean them as it will break down the teflon liner. Also don't use a grease or non-drying lubricant as this will collect and hold onto dirt and wear the spherical bearings faster. For a dry teflon lubricant some options are: Tri-Flow with teflon (found at ACE true value or many bike shops) is a popular choice. Remington makes a dry teflon lube sold at Wal-Mart and Cabella's that works great, also the company that makes PB blaster has a dry lube spray called "TDL" (The Dry Lube) this is designed when you don't want dirt to stick to whats being lubed. Any of the above will eliminate noise and help extend the life of the bearing for many long miles.
CUSTOMER TESTIMONIALS:
"Good Morning, Over the weekend I received and installed my set of Traction Balls and I am thoroughly impressed with both the product and the customer service. The components of the traction ball and there combined tolerances exceeded my expectations as well as the fitment of competing products. The level of precision and attention to detail in the traction balls alone was enough for me to recommend Full-Race to others but it was the other small touches that have guaranteed that I will be a Full-Race customer again for any other components that I need. The packaging of the parts was excellent and I have no complaints or critiques to offer about the shipment as a whole. The attention to detail on the packaging was impressive and truly conveys that you care and the addition and placement of the thank you card and Full-Race stickers was perfectly executed.

Sincerely thank you,

John Gray"