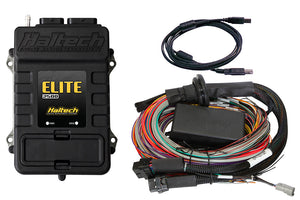 Elite 2500 +
Premium Universal Wire-in Harness Kit
OUTPUTS:
Up to 8 injector and 8 ignition.
SUITS:
Recommended for 4, 6, 8 cylinder, Drive-By-Wire (DBW) or 2, 3, 4 rotor engines, EFI conversions, engines with multiple variable camshafts.
INCLUDES:
Elite 2500 ECU with DBW and Race Functions. Premium Universal Wire-In Harness. Firewall grommet, moulded 6 power circuit fuse box and lid. 4 relays, 7 fuses and pins for the 2 spare power circuits. USB programming cable and USB Software Key.
NOTES:
Top of the range, two-connector ECU. Ideal for popular late model performance and racing applications.
IMPORTANT EMISSIONS NOTICE: