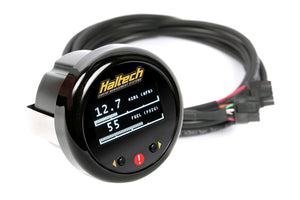 Haltech's new Multi-function CAN Gauge displays real-time data from your Haltech ECU. Easily customize your gaugeART CAN Gauge to display the data you want to see with the included gaugeART CAN Gauge App (requires Android 4.4 or later or Apple iOS 9.1 or later). The easy to use app on your smartphone or tablet uses a wireless connection to the gauge for easy setup and customization.
Set up via gauge-mounted buttons or a mobile app
High contrast, dimmable OLED display
1, 2, or 4 gauge layouts on up to 10 different pages
Custom warning points with special warning screens
SUPPORTED PARAMETERS
Boost Pressure
Air/Fuel Ratio
Coolant Temperature
Fuel Pressure
Ethanol content
above can be displayed without additional sensors.
COMPATIBLE WITH
Haltech Platinum Sprint Series
Haltech Platinum Sport Series
Haltech Pro Plugin Series
Haltech Elite Series