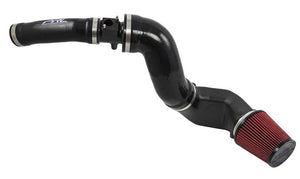 Fitment Notes:

FITS 2016+ HONDA CIVIC NON-SI 
FITS HONDA SENSING PACKAGE
NOT COMPATIBLE WITH FACTORY CVT COOLER (SPAIN, TURKEY, ETC)
Please Read Before Ordering:
NO TUNE REQUIRED FOR STREET MAF HOUSING
RACE MAF-SPECIFIC TUNE REQUIRED FOR RACE MAF HOUSING
HONDATA & KTUNER BOTH OFFER RACE MAF BASEMAP CALIBRATIONS
TWO STEP PERFORMANCE "TSP" TUNE ALSO COMPATIBLE BY SELECTING "RACE MAF" OPTION
Technical Notes:
There's a reason our Cobra Cold Air Intake Systems is a constant topic of discussion and so highly regarded. Our CNC machined billet aluminum MAF Housing was designed to provide *factory-spec fuel trims (-4% of factory STFT & LTFT) for optimal drivability and performance. The Cobra CAI utilizes a 4" volume from the air filter into the MAF Housing and is available with two different MAF housing choices; a Street housing and a Race housing. Both housings utilizes the factory MAF sensor, but feature two different diameters and profiles. As mentioned above, the Street housing is designed to provide factory-spec fuel trims WITHOUT any tuning whatsoever. The Race housing allows a 50% larger volume of air in comparison to the Street housing, which is why a tune IS required. This larger volume of airflow reduces pumping loss and creates an unrestricted air path to feed the MAF housing with ambient temperature air. 

Performance Gains:
15 horsepower and 12 ft/lb torque gains in comparison to stock with Street MAF housing WITHOUT TUNE 
20 horsepower and 15 ft/lb torque gains in comparison to stock with Race MAF housing WITH Race MAF basemap calibration on Hondata and/or KTuner 
Larger gains to be seen at higher power levels with custom tuning