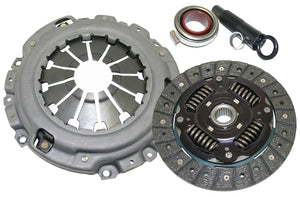 The economical solution for moderately modified cars or simply aggressive individuals with stock power. Offers 40-50% increase in torque capacity and maintains stock pedal feel. 300 mile break-in recommended with this set-up.
Clutch kit includes pressure plate, disc, throwout bearing, alignment tool, and pilot bushing.
DO NOT use with added turbo or supercharger.
For 9th gen Civic Si, Acura Ilx and Cu2 TSX this clutch requires the Comp lightweight flywheel and Flashpro for no issues.