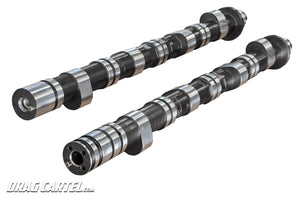 ELITE PRO SERIES: Drag Cartel Industries has brought there ELITE Pro Series line to market targeted towards the Motorsports community. Elite Series camshaft made of Tool Steel that deliver the ultimate in high performance & quality. DC Tool Steel camshafts are CNC ground on a state-of-the-art Landis Cam grinder. DC cams deliver the utmost in rigidity at extended rpm range while reducing possible valve float. These are the best cams money can buy and are now available for all stages. Less friction, more rpm potential, faster action cam profiles allow us to be known in the community as an industry leader.

Torque the intake cam gear bolt to 83 lb-ft.
Torque the exhaust cam gear bolt to 51 lb-ft.
Torque the pulse plates to 29 lb-ft.
Specs:
ALL NEW Tool Steel Material 
Intake: 15.6 mm Lift / .280 Duration @ .050
Exhaust: 14.8 mm Lift / .278 Duration @ .050
Requires Ferrea Roller Rocker!
Engine and Application
K-series Engines:
k20a2, k24a2
Cars:
2001-2005 Acura RSX Type-R, 2002-2006 Acura RSX Type-S, 2004-2006 Acura TSX, 2006-2010 Honda Civic Si