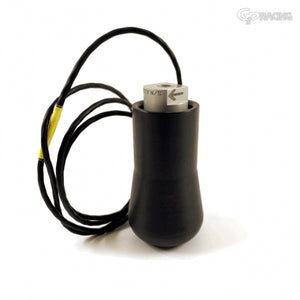 This is a state of the art GP1 Racing Strain Knob that we've used for years on many of our own drag cars. Simply install this shift knob then wire in the power/ground/signal wires to the ECU, and set up the input in your EMS system to trigger an ignition cut for easy, seamless full-throttle clutchless upshifting!
This system works great for either rod or cable-actuated shifters such as your common Honda/Acura B-Series or K-Series cars. We use the 2.5V Reference Amplifier Module option as most standalone EMS will easily accept a 0-5V trigger range.
2.5v Resting Voltage for Motec, AEM, Haltech, Fuel Tech
±0.5% Accuracy
5V or 8-16V Supply
Thread Pitch (M12x1.75 Boostin/KDN Thread Pitch )
NOTE: When using 5v output resting voltage will read under 2V.
Setup Instructions: AEM V2, AEM Infinity, Motec M1, Fueltech , and More Coming soon