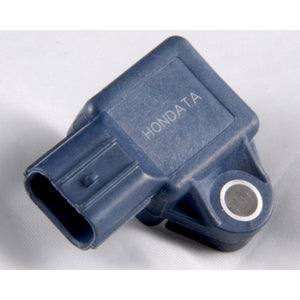 The Hondata 7 bar MAP sensor is a plug compatible replacement for the Honda factory MAP sensor. It is a direct replacement for the B, D, H, F, J and K-series Honda engines. This plug in sensor takes less than 60 seconds to install and eliminates the risk of sensor damage that often occurs when attempting to wire in other types of MAP sensors.
Important note for automatic transmissions
Automatic transmission computers for the 2009-2010 TSX, 2006-2011 R18 Civic, any CVT CRZ, Asian RRH based Civics share the MAP signal with the fuel injection computer.  If you have an automatic transmission and change the MAP sensor then the AT computer will not work correctly.  You must retain the stock MAP sensor with ATs.