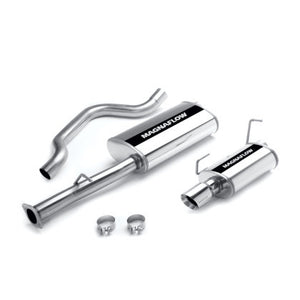 Everyone wants more horsepower & torque, greater fuel efficiency, and a meaner sound. Magnaflow Performance exhaust systems are engineered to increase performance while sounding great. If you're looking to upgrade your ride, a new exhaust is a great place to start, and Magnaflow is the best in the business.

Magnaflow uses larger diameter, mandrel bent pipes to increase exhaust flow, which helps to boost performance and fuel efficiency. 1/2" overlapped welds ensure a leak-free exhaust system. Great care has been taken to ensure the exhaust rumble is a smooth throaty sound, and not an overwhelming drone.
All Magnaflow exhaust systems use stainless steel that resist rust and corrosion. Tips and mufflers are included, and polished to a mirror-like finish. A flow through performance muffler with acoustical fiberfill creates a quiet interior drone and the desired exterior rumble. Every exhaust kit is tested and dyno proven for optimal performance.
Boost your ride's performance with a Magnaflow Performance exhaust system. Your car will thank you with better fuel efficiency and greater get-up-and-go.
Vehicle Fitment 
2006-2008 Chevy Trailblazer SS V8.5967cc