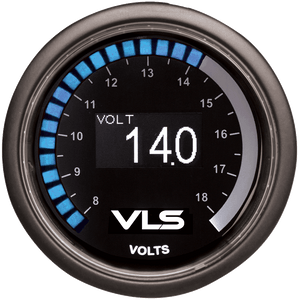 2 1/16 in. (52mm) diameter gauge
8 Volts to 18 Volts reading
Digital OLED display
30 LED outer ring
Daisy chain compatible
Mounting kit included
The Revel VLS Voltage gauge monitors voltage levels from 8 volts up to 18 volts. The OLED screen allows for easy readings from any viewing angle, and a 30 LED outer ring for viewing at a quick glance.
The Revel VLS Voltage gauge is daisy-chain compatible with the VLS Boost gauge, VLS Water Temperature gauge, VLS Oil Temperature gauge, and VLS Oil Pressure gauge