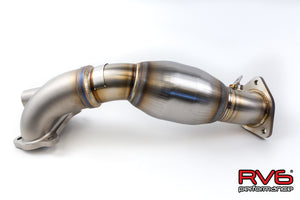 CERAMIC COATING AVAILABLE AT AN ADDITIONAL COST
Gains with a excellent exhaust tone and not having to deal with smell of running catless. Introducing the RV6® Catted Downpipe for the 2016+ Civic equipped with a naturally aspirated 2.0 K20C2. This downpipe replaces the highly restrictive O.E precat with a free flowing contoured casting and high flow 300 cell cat. The entire assembly made of high quality 304 stainless steel and is TIG welded by our master welders in the USA.
Product Description
The RV6® Catted Downpipe for the 2016+ Civic 2.0L was completely designed using Solidworks 3D modeling and our Romer CMM system for extremely precise measurements. The transition from engine to tube was designed using advance flow analysis for maximum flow characteristics. This transition was then made into a high strength 304 stainless precision casting. This allows for a very durable product with optimize turbulence free flow. 
When Honda first introduced the integrated exhaust manifold maybe people were upset that conventional "headers" were now obsolete. This is especially true since the K-Series platform produced some very impressive performance gains with quality headers. When you look at the O.E precat, you can easily tell it was designed to be made cheaply and mass produced. The components are stamped and welded with no consideration for turbulence or restrictions. This combined the 2 catalytic cores causes the engine to be literally choked out of a good amount of power. 
Specifications:
- 300 Cell High Temperature High Flow Cat
 - 304 Stainless Precision Cast transition 
 - 304 Stainless 2.5" tubing
 - 304 Stainless Flange
 - Fully TIG welded
 - Argon back gassed for pure welds
Includes:
 - Non Foulers
 - Chromoly Exhaust Studs
 - Gaskets and Hardware
Processing takes an additional 7 to 14 business days for ceramic coating.