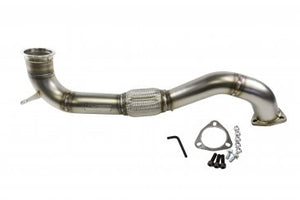 CERAMIC COATING AVAILABLE AT AN ADDITIONAL COST
What everyone has been asking about. A full 3" frontpipe for the RV6® Modular downpipe. This frontpipe replaces the highly restrictive 2.0" OD front pipe with free flowing 3.0" OD tubing. This front pipe will bolt directly to the factory and any aftermarket exhaust system. The entire assembly made of high quality 304 stainless steel and is TIG welded by our master welders in the USA
Product Description
The RV6® Civic SI Fronpipe was completely designed using Solidworks 3D modeling and our Romer CMM system for extremely precise measurements. The entire system was designed using full radius bends for a optimize turbulence free flow. 
Specifications:
 - 304 Stainless 3.0" OD Tubing
- 304 Stainless 3.0" Vband Connection to RV6 Downpipe
- Only works with RV6® Modular Downpipe
- Fully TIG welded
 - Argon back gassed for pure welds
Includes:
- Gasket
 - Nuts and Bolts


Processing takes an additional 7 to 14 business days for ceramic coating.