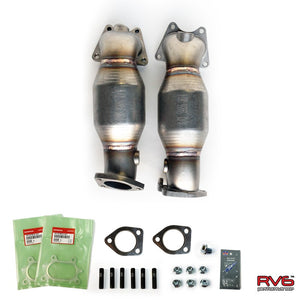 Introducing the new High Flow Precats (HFPCs®) for the 2nd Generation of J-series engines. Completely designed using 3D CAD and CMM, the transition from to high flow cat is made from precision casted 304 stainless steel. This allows for optimum turbulence free flow with no sacrifice in strength. The castings are no thinner than 5mm at their thinnest point. We are confident that the HFPCs® can handle any abuse without cracking. 
Specs:
- 304 Stainless cast stainless flange sections
- 300 Cell metallic substrate Converters  
- TIG welded
Includes:
All necessary hardware for installation
RV6® will warranty the castings and welding for 24 months. There is no warranty on the catalytic converters.