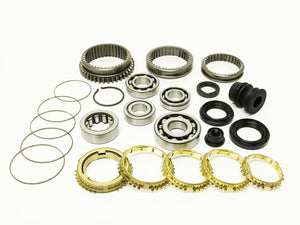 Fitting: P2A5  P2U5 P2A8 M2L5 M2S4 M2J4 M2J5 (1996-2002 models with 3 piece dual cone 2nd synchro and 7.5mm thick 3-4 fork) 
 Note: **Will not fit 92-95 model with 6.5mm fork. Early models may also have a single piece 2nd synchro, please verify your design or call for assistance.

Included: 1-5 Premium Brass Synchros, 1-5 synchro springs, reverse synchro and spring, 1-5 slider sleeves, 5 shaft bearings, 2 axle seals, input seal, shift rod seal, and a new dust boot.