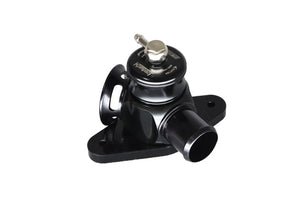 The Kompact Dual Port blow-off valve directly replaces the stock bypass valve on the Subaru WRX MY08-14 and the new Nissan Juke/Pulsar Turbo. Standard valves crack with age and heat cycling and rely on rubber diaphragms that perish. They're also not designed to handle increased boost levels. Turbosmart's Kompact offers big blow-off valve performance in a small package. Its billet aluminium construction provides strength, while the precision-machined lightweight piston gives excellent valve response and sealing without relying on rubber diaphragms or O-rings. Hence, it's far more durable and guards against compressor surge even when the boost is turned up.
The Kompact Dual Port features a 50-50 split operation between recirculating and vent-to-atmosphere. One recirc port keeps the car's ECU happy, while one vent-to-atmosphere port gives the classic Turbosmart blow-off valve sound we know and love.
Supplied With:
Port blanking plate, Pink Spring (installed), Gasket.